Location: Thematic focus
The Mechanism and Common Drugs of DPP-4 Inhibitors
Diabetes is one of the world's fastest-rising diseases, and the most important type is type II diabetes. As therapeutic drug for type II diabetes, the dipeptidyl peptidase-4 (DPP-4) inhibitor has made a new breakthrough in the treatment of diabetes, and is now widely used clinically. The action mechanism of DPP-4 inhibitors on type II diabetes mellitus is described in this paper, and the drugs containing DPP-4 inhibitor in clinical application are introduced.
DPP-4 is an in vivo enzyme, the main function is to decompose proteins in the body, one of which is glucagon-like peptide-1 (GLP-1), which is secreted by intestinal cells, can reduce blood glucose through stimulating insulin, suppressing glucagon, inhibition of gastric emptying and regeneration of islet cells. Similar to GLP-1 analogues, the DPP-4 inhibitor could inhibit GLP-1 degradation by inactivating DPP-4, thereby playing a role in hypoglycemic effects (Figure 1).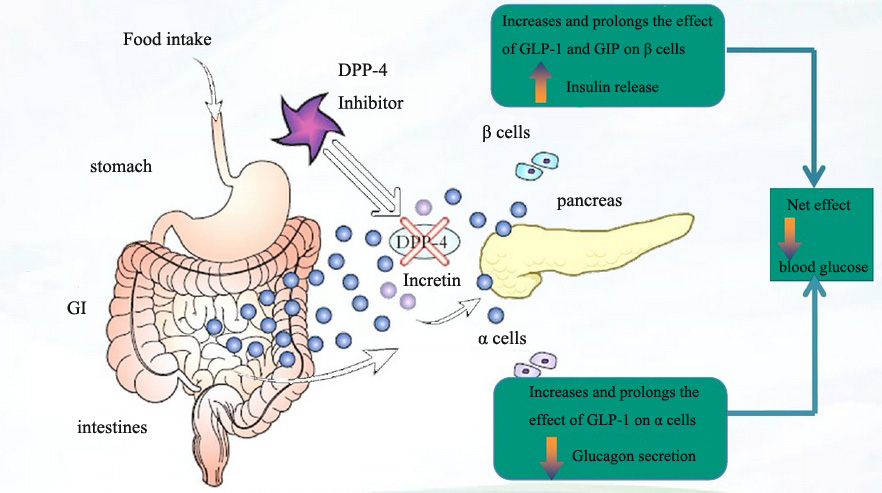 Figure 1. Action mechanism of DPP-4
The comparison of DPP-4 inhibitors with GLP-1 receptor agonists is shown in Table 1.
Table 1. The comparison of DPP-4 inhibitors with GLP-1 receptor agonists.
Inhibiting GLP-1 degradation,

increasing

concentration

of

improving dietary-related

insulin

secretion, inhibiting

GLP-1 analogue, exogenously

activating GLP-1 receptor,

enhancing insulin secretion,

Reducing glucagon release

Increase amount of β cells

Gastrointestinal side effects

no obvious gastrointestinal

gastrointestinal side effects

Incidence rate of hypoglycemia
Compared with GLP-1 receptor agonist, DPP-4 inhibitor has obvious advantages. At present, the information of common drugs including DPP-4 inhibitors are shown in Table 2.
Table 2. Classification and properties of DPP-4 inhibitors
The level of active GLP-1

Inhibition of plasma DPP-4 activity in 24h

The main excretion pathway

Intermediate

Derivant of

Amino benzyl

butyrate

3,7-dihydro-3-methyl-1H-purine-2,6-deketone

2,4-dioxo-1

(2H)-pyrimidinyl)methyl]
At present, the use of this type of drug to control blood glucose have made some progress, especially combination with other drugs, such as metformin, sulfonylurea, et al., the effect is relatively stable. In 2007, for example, Sitagliptin was approved for use in combination with metformin by the US Food and Drug Administration.
About the adverse reactions, the most common clinical symptome is nasopharyngitis, upper respiratory infection and headache. In March 2006~February 2009, there are 19 cases of acute pancreatitis after taking sitagliptin or its combination with metformin, the incidence of 21%. But because diabetes is easy to cause pancreatitis complications, it is could not explain the relationship between sitagliptin and pancreatitis. In addition, studies have confirmed that DPP-4 not only can control blood glucose levels, but also have some protection on the heart and coronary artery. Among above drugs, linagliptin is excreted from the stool, so there is no need to do the regular check and adjust the dosage, it is more convenient for prescription.
Type II diabetes is caused by multiple mechanisms, with dysfunction of pancreatic islet α-cells and β-cell. Traditional medicines have the risk of poor blood glucose control, prone low blood glucose and weight gain. The DPP-4 inhibitor is a hypoglycemic agent developed for the incretin system. It is glucose-dependent to lower blood glucose, lower the incidence of hypoglycemia and has no effect on body weight. Compared with the traditional drugs, DPP-4 inhibitor is more tolerant, more effective, and taking high security, it has become a research hotspots for the development of drugs for diabetes, the future direction of development for DPP-4 inhibitors is inclined to combine with other hypoglycemic drugs in the early stages of diabetes.