Location: Industrial Info
IMMU-132 (Sacituzumab govitecan) will be used to develop treatment for multiple tumors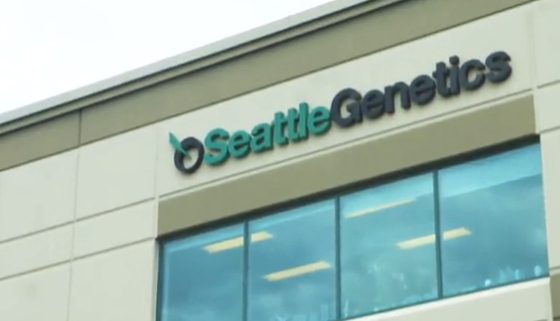 Recently, Seattle Genetics has been licensed by Immunomedics to develop antibody-drug coupling agents IMMU-132 (Sacituzumab govitecan) for multidrug cancer development and phase III clinical studies.
IMMU-132 is an antibody drug conjugate of humanized monoclonal antibody hRS7 and an anti-cancer drug SN-38. hRS7 can bind to trophoblast cell surface antigen (TROP-2), TROP-2 is expressed in a large number of human tumor cell surfaces such as breast cancer, cervical cancer, colorectal cancer, liver cancer, lung cancer, pancreatic cancer, but the expression in the healthy organization is limited. hRS7 can be internalized into the tumor cells inside after combinating with TROP-2, making it a suitable cytotoxic drug delivery tool. SN-38 is an active metabolite of the anti-cancer drug irinotecan. By coupling SN-38 to tumor-targeted antibodies, delivery of SN-38 to tumors may result in doubling of efficacy while reducing the systematicness toxic. In various animal models of human cancer, IMMU-132 significantly improved survival and tumor regression.
As early as 2013, the FDA has granted IMMU-132 an orphan drug for the treatment of small cell lung cancer. In June 2014, FDA also granted the experimental drug IMMU-132 treatment of pancreatic cancer orphan drug status, compared with the traditional treatment of drugs, IMMU-132 can kill tumor cells, while has fewer side effects.
In May 2015, the International Journal "Clin Cancer Res." Published an article entitled "First-in-Human Trial of a Novel Anti-Trop-2 Antibody-SN-38 conjugate, Sacituzumab Govitecan, for the Treatment of Diverse Metastatic Solid Tumors", pointed out that in human trials, Sacituzumab govitecan has acceptable toxicity and encouraging efficacy for refractory metastatic solid tumors in patients.
In February 2016, Sacituzumab govitecan (IMMU-132) was approved by the FDA for breakthrough therapy for the treatment of metastatic triple-negative breast cancer (TNBC), due to a good therapeutic effect in Phase II clinical trials. The Phase II clinical study showed that IMMU-132 treated a large number of treated TNBC patients with a 31% response rate.
This time, Immunomedics signed an agreement with Seattle Genetics to authorize IMMU-132 to Seattle Genetics for $ 2 billion. Seattle Genetics will conduct Phase 3 clinical trials of the antibody-drug coupling agent IMMU-132, and will also be responsible for funding the further development, production and commercialization of the drug. Seattle Genetics will also receive authorization for this medication for other indications, including urothelial carcinoma, small cell lung cancer and non-small cell lung cancer and other indications. If all goes well, the drug may be approved by FDA this year.
Although there have been new drug development and market, but it still far from being able to meet the growing needs of cancer patients, anti-cancer drugs is still an important direction for research and development. The occurrence and development of tumors are often associated with overexpression of cellular signals. In recent years, pharmaceutical compositions containing 2-aminothiazole derivatives has always been the focus of research due to low activity, low toxicity, less adverse reactions, less multidrug resistance, and bioavailability. We believe that a number of tumor drugs will eventually available for the benefit of mankind with the increase in all aspects of research efforts.
如果涉及转载授权,请联系我们。