Location: Industrial Info
How far is the new antibiotic Omadacycline from Chinese people?
Boston, April 24, 2017, Paratek Pharma, a US-based innovator specializing in the development and commercialization of tetracycline derivatives, announced that it will work with Zai Lab (Shanghai, China) to support the development and commercialization of Omadacycline in China.
The increasing bacterial drug resistance leads to the problem of antibiotic resistance, traditional tetracycline drugs, such as tetracycline, doxycycline, minocycline and other clinical applications have been greatly limited. People need to use antibiotics correctly, at the same time, it also need to develop new antibiotics. Omadacycline is a new 9-aminomethylthromycin drug, is a semi-synthetic compound based on chemical group modified of minocycline. It is a leading product of Paratek pharmaceutical. It has a broad spectrum of antimicrobial properties, including Gram-positive bacteria, Gram-negative bacteria and atypical bacteria, it can be used for the treatment of community-acquired pneumonia, urinary tract infections and complex skin and skin structure infections.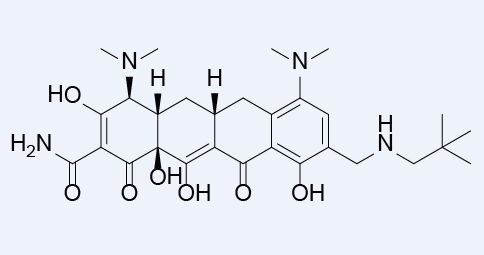 In 2013, Omadacycline was approved by the FDA for qualifying infectious disease products; In June 2016, Paratek announced positive efficacy data in a Phase 3 registration study in acute bacterial skin and skin structure infections (ABSSSI) demonstrating the efficacy, general safety and tolerability of intravenous (IV) to once-daily oral omadacycline compared to linezolid. In April 2017, Paratek announced positive efficacy data in a Phase 3 registration study in community-acquired bacterial pneumonia (CABP) demonstrating the efficacy and safety of intravenous (IV) to once-daily oral omadacycline compared to moxifloxacin. Paratek Pharmaceuticals will submit the US New Drug Application (NDA) in the first quarter of 2018.
Although Paratek has achieved Phase 3 clinical trial successfully in the United States, but if it would like to be suitable for patients in China and be listed in China, new trials are still needed such as new efficacy, tolerability, antimicrobial resistance and resistance. Under the agreement, Paratek will authorize the exclusive development, manufacture and commercial promotion of the Omadacycline in Greater China (including mainland China, Hong Kong, Macau and Taiwan). At the same time, the two sides will establish a joint steering committee to review and supervise all development, manufacturing and commercial promotion programs. Paratek will receive a $7.5 million upfront payment in connection with the signing of the agreement and is eligible for additional milestone payments related to development, regulatory, and commercial milestones. In addition, Paratek will be eligible to receive royalty payments on sales of omadacycline in the territory.
The rise in antibiotic resistance is a global health crisis and one of the biggest public health challenges, It is now growing at high levels around the world. China's antibiotic resistance is also very severe, even more than that in United States. Omadacycline has achieved good clinical results in the United States, this cooperation will bring Omadacycline into China, and we believe that it will become a new choice for the treatment of antibiotic resistance in China, and Omadacycline is no longer far away from the Chinese people.
如果涉及转载授权,请联系我们。