Location: Industrial Info
DPP-4/SGLT-2 compound preparation Canalia approved in Japan
Recently, the Japanese pharmaceutical company Tiantian Mitsubishi Pharmaceutical and
Daiichi Sankyo
jointly announced that the type 2 diabetes compound medicine Canalia has been approved by the ministry of health and labor welfare (MHLW), becoming the first listed DPP-4/SGLT-2 compound in Japan.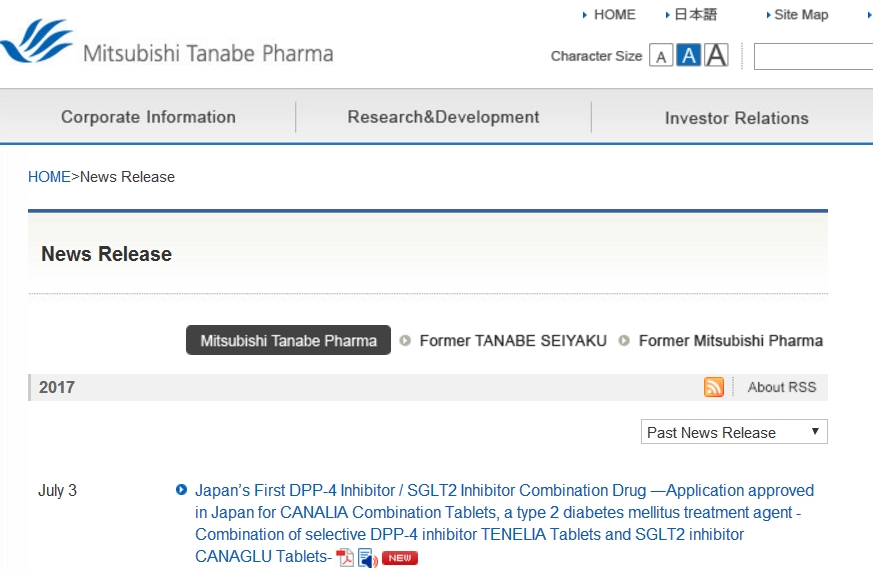 Diabetes is a complex chronic sickness, the latest data from the International Diabetes Federation (IDF) shows that there are 387 million diabetics around the world in 2014, and more than 450 million people suffering from diabetes now, by 2035, the number of diabetic patients will grow 55% to 600 million.
The compound medicine is to use the complementary effect of the main drugs to achieve the purpose of lowering blood sugar, the treatment success rate is high, has little toxic side effects, taking small dose, and can enhance the hypoglycemic effect of diabetes drugs. DPP-4 inhibitor, it inhibits the function of hydrolyzed proteins of DDP-4, so that GLP-1 will not be decomposed. GLP-1 can stimulate insulin, inhibit glycogen, inhibit gastric emptying and rebirth Islet cells to lower blood sugar. At present, there are 5 drugs are most studied and has been applied to clinical practice, they are Sitagliptin, Vildagliptin (intermediate 3-amino-1-Adamantanol), Saxagliptin, Alogliptin and linagliptin; SGLT-2 inhibitors, it can inhibit the reabsorption of glucose in kidney, so that excess glucose is drained from the urine, directly lower blood sugar. The current SGLT-2 inhibitors on global market are: Canagliflozin, Dapagliflozin, Empagliflozin, Ipragliflozin, Luseogliflozin and Tofogliflozin.
In the listed DPP-4/SGLT-2 compound, the Glyxambi (linagliptin/empagliflozin) from Boehringer Ingelheim-Eli Lilly Diabetes Union is the first DPP-4/SGLT-2 drug in the US market, the first drug in the European market, was approved by the FDA in February 2015; Qtern (saxagliptin/dapagliflozin) from AstraZeneca was the first DPP-4/SGLT-2 compound in European market, at the end of February,
Qtern
was approved by the FDA as the second DPP-4/SGLT-2 compound in the US market.
The Canalia, approved in Japan, is made up of DPP-4 inhibitor Tenelia and the SGLT-2 inhibitor Canaglu. For type 2 diabetes patients who are taking both Tenelia and Canaglu and achieving stable blood glucose levels, as well as patients with Type 2 diabetes who have undergone Tenelia or Canaglu monotherapy to control poor blood glucose levels.
Tanabe Mitsubishi Pharmaceutical and Daiichi Sankyo are committed to the treatment of patients with diabetes, Canalia improves medication convenience and treatment compliance for patients taking both Tenelia and Canaglu, and effectively improve blood sugar, with good efficacy, safety and tolerance.
Edited by Suzhou Yacoo Science Co., Ltd.
如果涉及转载授权,请联系我们。