Location: Industrial Info
Vosevi was approved by FDA for Hepatitis C
On July 18, the US Food and Drug Administration (FDA) approved Gilead's new drug, Vosevi, to treat adults with chronic hepatitis C virus (HCV) genotypes 1-6 without cirrhosis (liver disease) or with mild cirrhosis.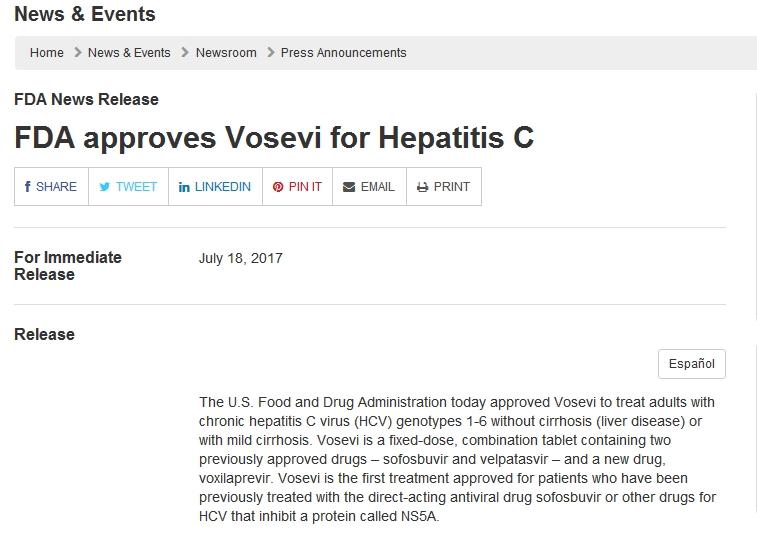 Chronic hepatitis C is a liver disease caused by hepatitis C virus, belonging to the Flaviviridae, which can cause acute or chronic hepatitis, ranging from mild illnesses from weeks to severe illnesses. There is about 71 million people infected with chronic hepatitis C around the world, a large number of chronic infection will appear cirrhosis or liver cancer. The genome is a single strand of positive chain RNA, and easily mutated, it can be divided into 6 genotypes and different subtypes, about 75% of HCV patients in the United States is genotype 1; 20%~25% for genotype 2 or 3; minority infected with genotype 4, 5 or 6.
In the treatment of hepatitis C, commonly used effective drugs are interferon common IFNα, complex IFN, pegylated IFNα, and ribavirin. At the same time, hepatitis C treatment standards are also undergoing rapid changes. Sofsbuvir, Daclatasvir and sofsbuvir/ledipasvir combination therapy are WHO's preferred programs with a cure rate of over 95%. These drugs are more effective, safer and more tolerant than old therapies. The treatment for hepatitis C continues to improve, but remains limited, and much needs to be done to ensure that more people are treated.
Vosevi is a combination of three fixed-dose ingredients—sofosbuvir, velpatasvir, and a new drug chemical voxilaprevir (NS3 protease inhibitor). The patient population was genotype 1, 2, 3, 4, 5 or 6 adult patients who had previously failed treatment with the NS5A inhibitor regimen, and genotypes previously used with sufsbuvir but no NS5A inhibitor regimen 1a or 3 adults. Vosevi is the first FDA-approved treatment for patients who had previously received direct antiviral drug sofosbuvir or NS5A inhibitors.
Directly acting antiviral drugs can often prevent the virus from multiplying and cure HCV. Vosevi is the first approved monotherapy regimen that provides a new treatment option for HCV patients who have not been successfully treated, which also improved the Gillard's anti-viral combination based on sofsbuvir.
Edited by Suzhou Yacoo Science Co., Ltd.
如果涉及转载授权,请联系我们。