Location: Industrial Info
HEPLISAV-B™ will be approved recently?
Recently, Dynavax Technologies Corporation announced in its official website that the FDA Vaccines and Related Biological Products Advisory Committee (VRBPAC) voted 12:1 that the safety data for HEPLISAV-B. A prior VRBPAC panel voted 13 to 1 to support the immunogenicity of HEPLISAV-B., it appears that HEPLISAV-B will be approved in recent days.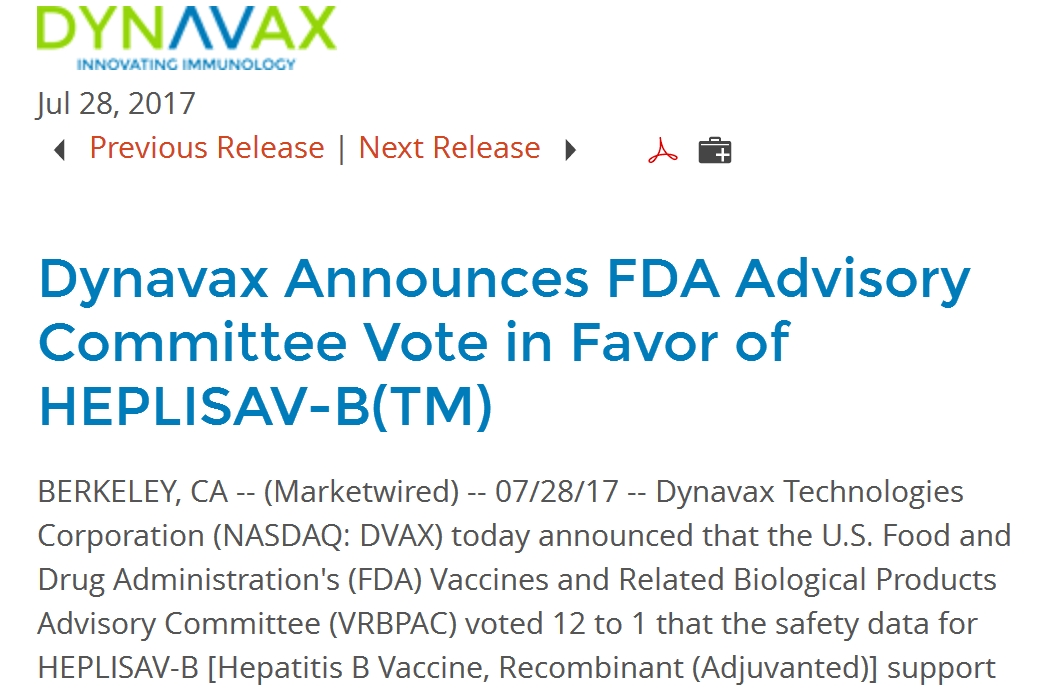 Hepatitis B is a potentially life-threatening liver infection caused by hepatitis B virus, which is a serious global health problem. It can cause chronic infection, The risk for the patients died of liver cirrhosis and liver cancer is high. According to the latest data of the World Health Organization, about 257 million hepatitis B virus infection in the world (positive hepatitis B surface antigen), in 2015, hepatitis B caused 88.7 million deaths, mostly died of complications (including cirrhosis and hepatocellular carcinoma).
In the control of hepatitis B, the currently recognized hepatitis B antiviral drugs are interferon (common interferon α-2b, pegylated interferon α-2a) and nucleosides (lamivudine, adefovir, entecavir), but these drugs can not cure hepatitis B. Reduce the threat of hepatitis B, the safest and most effective way is to vaccinate hepatitis B vaccine. After vaccination, it will stimulate the immune system to produce antibodies, antibodies exist in human body fluids, once the virus invade, the antibody will immediately effect to clear it and prevent the infection. The traditional vaccine generally need to complete three injections in half a year, and commonly only 54% people will complete all vaccines in 1 year.
HEPLISAV-B consists of hepatitis B surface antigen and TLR-9 agonists, which are designed to enhance the body's immunity to hepatitis B virus. In the entire clinical trial, 1,000 adults received HEPLISAV-B inoculation, and in the final Phase 3 clinical trial, HEPLISAV-B was validated: it was effective in protecting patients. At the same time, the injection frequency is reduced to two injections within 1 month, there is a hope to provide good protection for more people.
Previously, the safety of the vaccine has been to be considered, the regulators found that the number of death and the incidence of serious heart disease were higher than the control group, leading to its failure of applications in 2012 and 2016. The poll results show that the FDA's Advisory Committee has recognized the safety of this vaccine, HEPLISAV-B is likely to be approved in the near future.
If approved, HEPLISAV-B will become an important member of the hepatitis B vaccine, it will not only improve the serum protection rate, improve the patient's vaccination rate, but also has a certain safety, which is very important to prevent hepatitis B. Hope we could hear the good news soon!
Edited by Suzhou Yacoo Science Co., Ltd.
如果涉及转载授权,请联系我们。