Location: Industrial Info
Sovaldi was officially sold in China!
Last Saturday, Gilead announced in Beijing that its first oral antiviral drug, Sovaldi (Sofosbuvir), which covers the pan-genotype of chronic hepatitis C, was officially launched in China for use in combination with other drugs to treat adult pan-genotypes and genotypes 2 and 3 hepatitis C in adolescents aged 12~18 years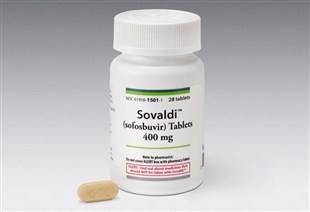 Hepatitis C, a liver disease caused by the hepatitis C virus (HCV) infection, is a serious global challenge. About 3% of the world's population is infected with the hepatitis C virus. HCV is also China's fourth largest contagious disease, with an estimated 10 million people infected, making it one of the most heavily infected countries in the world. Due to the extremely occlusive nature of the hepatitis C virus, most HCV-infected patients develop to chronic liver disease, even to cirrhosis and hepatocellular carcinoma. In the treatment of hepatitis C, there are two different times: the interferon era and the DAA era.
(1)
Interferon Era: In 1989, normal interferon was approved for hepatitis C treatment. Later, ribavirin and long-acting interferon appeared. The standard treatment protocols unanimously recommended by all countries are: long-acting interferon + ribavirin. However, this standard treatment program has a lower cure rate, poor patient tolerance, and long treatment cycles.
(2) DAA era: The first-generation DAA was approved for listing in 2011, which not only significantly improved the cure rate of hepatitis C but also significantly shortened the treatment cycle. At the end of 2013, the second-generation DAA represented by Sofosbuvir was approved Listing, not only marking a breakthrough in the progress of human beings to overcome hepatitis C, but also makes full oral interferon-free treatment programs become a reality.
Our current standard treatment of chronic hepatitis C is still long-acting interferon combined with ribavirin, the cure rate was only 44% to 70%, while there is a large adverse drug reactions and drug interactions, poor patient tolerance, long treatment cycle, and other issues, leading to the cure rate of hepatitis C patients in our country is very low.
Since its approval in the United States in 2013, sofosbuvir has been approved for sale in 79 countries and benefited more than 1.5 million people worldwide, demonstrating unique therapeutic advantages. It was approved by the CFDA on September 21 this year and is the first DAA drug in China to cover the all HCV genotype. Sofosbuvir a NS5B polymerase inhibitor that potently inhibits the replication of hepatitis C virus. Data from Phase III clinical studies conducted in China showed that the sustained response rate was 92% to 100% for patients with hepatitis C virus of genotypes 1, 2, 3 and 6 during 12 weeks. And it is not easy to produce drug-resistant mutations, treatment time is short.
It was revealed that the drugs of origin were sent to China from Ireland on October 31 and arrived at Shanghai on November 3, and passed the drug test last week. On November 27, that is, yesterday, the price of the drug was revealed—RMB19,660/bottle (28/bottle), a course of treatment (three months) RMB 58,980.
DAA drugs not only have high cure rate, good safety, short course of treatment and convenient taking, at the same time, they can relieve the degree of fatigue, improve the quality of life and even achieve the goal of cure. In addition to Sofosbuvir, the HCV drugs approved in China include Bertrix®(daclatasvir hydrochloride tablets) and Velovir® (asunaprevir capsules), Simeprevir and Ombitasvir and Dasabuvir. We also hope that these drugs could be marketed soon and will bring more treatment options to hepatitis C patients.
Edited by Suzhou Yacoo Science Co., Ltd.
如果涉及转载授权,请联系我们。