Location: Company News
Congratulations on the successful completion of EU REACH registration for Suzhou Yacoo Science star product Trometamol
On June 17, 2019, Suzhou Yacoo Science
successfully completed the EU REACH registration of
star product trometamol (CAS: 77-86-1) and obtained the registration certificate, registration number: 01-2119957659-16-0036.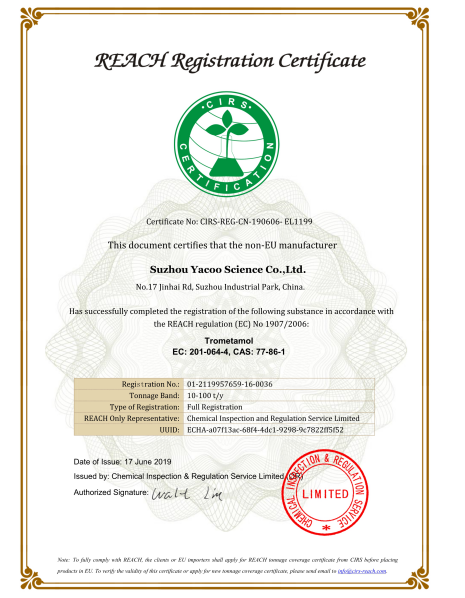 The EU REACH Regulation, known as the "Registration, Evaluation, Authorization and Restriction of Chemicals", is a chemical registration, assessment, licensing and restriction regulation (hereinafter referred to as REACH), which is the EU's preventive management for all chemicals entering its market. The regulations were officially passed on December 18, 2006, officially took effect on June 1, 2007, and officially implemented on June 1, 2008. Its main purpose is to protect human health and the environment, to maintain and enhance the competitiveness of the EU chemical industry, to increase transparency and consumer awareness, to promote non-animal testing, and to align with the EU's international obligations under the WTO.
Registration is the most important obligation under REACH regulations. After the company successfully submits the registration file for chemical substances to the European Chemicals Agency (ECHA), it can obtain a registration number consisting of 18 digits. If the company fails to complete the registration before the corresponding deadline, the corresponding products cannot be placed on the EU market.
The trometamol registration file of Suzhou Yacoo Science has been reviewed by the European Chemicals Agency (ECHA) and meets the REACH registration standards. This shows that tromethine of Suzhou Yacoo has reached the requirements of the EU market in terms of product quality indicators, and it also fully proves the production strength of Yacoo.
Suzhou Yacoo Science has an independent R&D test center and a production base covering an area of 10,000 m

2

, and has passed the ISO9001:2015 quality system certification, which can provide customers with high-quality customized products from gram to tonnage. As a star product of Yacoo, trometamol (CAS: 77-86-1), with an annual production capacity of 2,000 tons, can be widely used in the preparation of buffers in biochemistry, molecular biology, etc., and can also be used in cosmetics, coatings, and preparation of in vitro diagnostic reagents.
Trometamol successfully completed the EU REACH registration, making our EU market for trometamol more powerful. We will always adhere to the customer demand-oriented and support by continuous innovation and research and development. Our vision is supposed to be a leading company in the field of customized service of biological medicine and chemical material, and always offer high quality products and technical solution service based on the customers' unique needs.
Edited by Suzhou Yacoo Science Co., Ltd.