Location: Industrial Info
New hope for type 2 diabetes patients, key phase III clinical of Ertugliflozin achieved success
Recently, the data of two key phase III clinical studies for diabetes drug ertugliflozin from Merck and Pfizer—VERTIS MET, VERTIS SITA—has been published, and achieved positive results.
SGLT-2 inhibitors have been one of the focus of attention in the field of diabetes. And it has different hypoglycemic mechanism with DPP-4 inhibitors, it can block the renal glucose reabsorption effect, excessive glucose is excreted through the urine to achieve the effect of lowering blood glucose levels, and the hypoglycemic effect does not depend on β cell function and insulin resistance. Ertugliflozin is an experimental, oral, SGLT-2 inhibitor developed by Pfizer for the treatment of type 2 diabetes.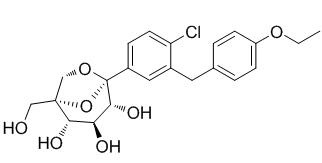 As early as March of this year, Merck and Pfizer have submitted three new drug applications for ertugliflozin to the US FDA, which is single drug therapy, combined with sitagliptin, combined with metformin. FDA has designated target date of three NDA prescription drug user charges (PDUFA) as December 3, 2017. In addition, the European Medicines Agency (EMA) has received three license applications (MAA) for ertugliflozin monotherapy and two fixed-dose combination products.
The entire VERTIS clinical trial consisted of nine clinical trials, and a total of 12,600 adults with type 2 diabetes were enrolled in the study. This announcement is two key Phase III clinical studies—VERTIS MET and VERTIS SITA. The study evaluated the efficacy and safety of the two doses of ertugliflozin (5mg and 15mg, once daily) as an additional therapy to metformin or DPP-4 inhibitor Januvia (sitagliptin) for first-line treatment. The data show that the two doses of ertugliflozin have made statistically significant reductions in glycosylated hemoglobin (A1C), reaching the main end point of the study.
Diabetes is a global threatening disease, with more than 450 million people. Therefore, the development of diabetes drugs has also been of concern. These data not only support the efficacy and safety of ertugliflozin as adjuvant therapy for metformin and the combination of sitagliptin for first-line therapy, but also an important milestone in clinical development of ertugliflozin. Once the drug is approved, it will serve as an important treatment option to help better control of blood glucose levels in patients with type 2 diabetes.
Edited by Suzhou Yacoo Science Co., Ltd.
如果涉及转载授权,请联系我们。